Massage in 10 hands
Session time:
09:00 - 17:00
17:00 - 21:00
Nirvana massage in 10 hands in Lviv is not just a very pleasant pastime, but a unique, pleasant pastime. It is unlikely that someone will be able to offer such a pleasure, because every master's movement on your body is carefully exaggerated and planned with colleagues. This means that all 10 hands on your body will move not chaotically, but synchronously, taking into account the peculiarities of your health, as well as the demands to massage.
Incredible sensations
Imagine how the five experienced masseurs will do the perfect massage for you – incredible feelings, a lot of pleasant emotions and a taste of paradise. This is what you get thanks to massage in 10 hands in Lviv.
Five times more pleasure than a normal massage, much more beneficial health effect, as well as time saving. As a result: there are many benefits to this elite type of massage.
There are few places in Ukraine where you can get this incredible service. But it is in the studio of massage art Deluxe by Natalia Bezvuliak an incredible service is waiting for you, the perfect implementation of the technique of massage in 10 hands, the prices are available to you. How do you think if these conditions are good for you? After all, we do our best to help you discover new forces for future achievements.
Іndications for massage in 10 hands
By evaluating the positive properties on the body of the massage in 10 hands, the comments hereon can be found on our website, it becomes obvious that this session has a huge benefit. You will receive a significant healthcare effect on your body. This massage will be especially useful if you have:
Diseases of the musculoskeletal system;
Low metabolic rate;
Cardiovascular diseases;
Overweight;
First signs of aging;
Stress or depression;
Bad sleep.
This is far from the complete list of situations in which the massage in 10 hands in Lviv will help you to strengthen your health. In addition to the great pleasure of the massage session, it will have a beneficial effect on your immune system. This is another important reason why you should try this incredible satisfaction.
You will forget for a long time what is osteochondrosis, bad mood and migraines. A huge dose of health, a happy hormone and incredible impressions is something what is worth living for. And this is exactly what you will get from the massage in 10 hands in Lviv.
Before the session, we will definitely consult you. We will tell you all the features of massage, and the possible contraindications to it. One should pay special attention in the following cases:
Manifestation of inflammatory processes.
Pregnancy.
Allergic diseases.
Blood disease.
Skin diseases.
Benign or malignant tumors.
If you are at risk, it is recommended that you first talk to your family physician who is best competent in your situation. And you will decode together how useful it will be to conduct massage in 10 hands in Lviv. Remember how important it is to take care of your health.
We will do everything possible to ensure that you are exactly satisfied with a quality and gentle massage. This is a pleasure to be received by everyone, because you deserve it. That is why you will get what you so much strive for in the studio of massage art Deluxe by Natalia Bezvuliak. We will help you to relax, to get new impressions and incredible energy recharge with pleasure, with which you can achieve everything you want.
How to perform a massage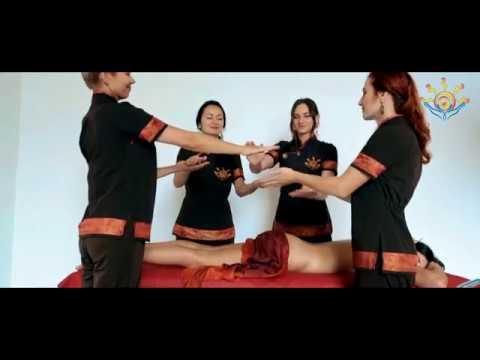 Popular questions
Deluxe by Bezvuliak Massage Centre is a place for rest and recovery. All you have to do is to phone us and arrange a visit. Here you will be welcomed by our friendly staff. You do not have to bring anything – we have every single thing to make you feel comfortable.
Of course it is worth coming earlier. This allows you to change your shoes, visit the bathroom and in the welcoming atmosphere of Deluxe by Bezvuliak, settle in for an outstanding experience and pleasure.
All massages at our Massage Centre have a revitalizing effect. If you have an individual needs or if you feel pain in certain areas that you would like to focus on – then choose either the Rehabilitation Therapy or Fantasy of the Master Massage. If you want a relaxing massage with therapeutic effects, then all the massages that we offer are specially designed for you. Give us a call and we will help you find the best option.
Each massage type has its own individual characteristics. It always depends on what you are expecting from the session – relaxation, an energy filler, some new emotions or a revitalization. For example, Ayurvedic or Four-Hand Massage will help you to relax as much as possible. This also applies to all spa massages. If you want to feel something special – try the Master Fantasy Massage, the Lomi Lomi Nui or Emotion Volcano. We can also offer exclusive massages suitable for couples, such as Tune for two Hearts or Paradise for Two.
You want to sign up for a massage
Massage in 10 hands?
Gift certificates
Need to greet loved ones? Or treat yourself?
The best gift for any holiday for your family and friends!
Learn more