Rehabilitation therapy by Kateryna Bezvulyak
Rehabilitation therapy by Kateryna Bezvulyak is a radically new approach to massage and work between the masseur and the client in general.
Kateryna has such a strong energy that she feels customers without words. With the help of a special "tune-up" technique, which only Kateryna has at the Deluxe by Bezvulyak Massage Center, the client restores himself from within. The task of Kateryna Bezvulyak is to help and lead this unique healing process.
You will get an effective result after the first visit to "Rehabilitation therapy by Kateryna Bezvulyak", realizing all the changes in your body. This healing technique helps to change your condition here and now, without spending a lot of strength and energy to undergo entire courses of massages.
It works on a physical, emotional and psychological level with your body.
WHAT DO YOU GET BY HAVING THE MASSAGE "RECOVERY THERAPY BY KATERINA BEZVULYAK"?:
Removal of indoor blocks,
Clarification of the cause of certain diseases of the body: identification of generic causes of diseases and causation,
Working with psychosomatic requests,
Restoration of a tone of muscular and connecting fabrics,
Restoration of mobility of all joints,
Restoration of nutrition of all organs of an organism, thanks to deep work with a stomach and internals,
Recovery from injuries,
Improving blood circulation, excretion of excess fluid,
Relieving fatigue and stress, anxiety,
Recommended for people with sleep disorders,
Restoration of the broken internal harmony,
Allowed during pregnancy.
Kateryna Bezvulyak's unique technique is a smart full body massage. This massage is recommended for pregnant women.
Kateryna Bezvulyak underwent additional training in special techniques for working with pregnant women. So feel free to call and apppoint a visit.
The technique is based on the principles of osteopathy, soft manual techniques and Slavic massage techniques.
The massage is performed without massage oil.
How does it all happen?
First, Kateryna Bezvulyak finds and shows you tense areas of the body that cause fatigue or pain, and bother you.
You, for your part, then consciously relax, allow the master to penetrate deeper and eliminate unpleasant moments in your body.
From Kateryna  you get possible causes of psychosomatic or physical nature that affected your body.
So, if you like a description of the unique massage "Rehabilitation Therapy by Kateryna Bezvulyak", you are often nervous, feel pain in a certain area, want to relax and recharge vigorously, lead a sedentary lifestyle and your body just begs to move it, come to Kateryna Bezvulyak and try this unique massage technique.
The duration of the massage is 90 minutes and 120 minutes. The price of massage during the day and evening is the same and will pleasantly surprise you.
"Rehabilitation therapy by Kateryna Bezvulyak" can be combined with another unique technique "Access Bars". This massage is called "Access Bars Transformation" lasting 120 minutes. You can learn more about the special technique "Access Bars" and about the massage "Access Bars Transformation" on our website.
There are certain groups of people for whom a massage of any part of the body will be contraindicated. Not to harm yourself, we advise you to read more about the contraindications:
Purulent disease.
Inflammatory processes (of any localization).
Blood diseases.
Allergic and skin diseases.
Tumors (benign or malignant).
Mental diseases with excessive anxiety.
Lymphatic diseases.
If you have no contraindications, and have the desire to heave a body massage in Lviv, we look forward to seeing you in the heart of the city. For more details about the massage: call our specialists to get advised in detail.
How to perform a massage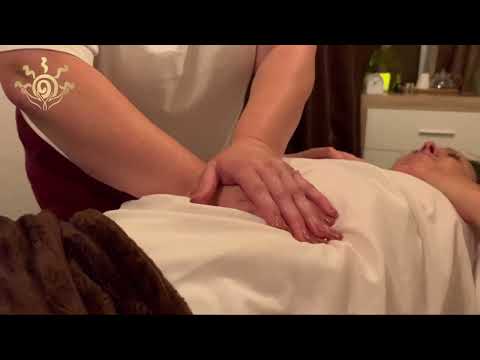 Popular questions
Deluxe by Bezvuliak Massage Centre is a place for rest and recovery. All you have to do is to phone us and arrange a visit. Here you will be welcomed by our friendly staff. You do not have to bring anything – we have every single thing to make you feel comfortable.
Of course it is worth coming earlier. This allows you to change your shoes, visit the bathroom and in the welcoming atmosphere of Deluxe by Bezvuliak, settle in for an outstanding experience and pleasure.
All massages at our Massage Centre have a revitalizing effect. If you have an individual needs or if you feel pain in certain areas that you would like to focus on – then choose either the Rehabilitation Therapy or Fantasy of the Master Massage. If you want a relaxing massage with therapeutic effects, then all the massages that we offer are specially designed for you. Give us a call and we will help you find the best option.
Pink Recovery is a two-hour full-body spa experience to maximize your relaxation at our Massage Centre. The Volcano of Emotions is a massage where you get twice the pleasure because it is performed by two masters. If you want four hands to maximize your relaxation and wellness, then Volcano of Emotions is right for you. If you simply want a taste of what a spa massage is all about, we recommend you start with a 90-minute Stone Therapy Massage, Ayurvedic Massage or Aroma massage with candle and then progress to all other massages at our Centre.
You want to sign up for a massage
Rehabilitation therapy by Kateryna Bezvulyak?
Gift certificates
Need to greet loved ones? Or treat yourself?
The best gift for any holiday for your family and friends!
Learn more