Thai yoga massage
Session time:
09:00 - 17:00
17:00 - 21:00
Cost:
1100
1350
1500
1800
1900
2300
Thai massage is one of the most effective types of massage around the world, because it works on acupuncture points in our body. Today, you don't need to go to Asia to enjoy a health treatment, you just need to choose a good place where you will get a Thai massage in Lviv.
Experts believe that this massage is "universal". It starts the hidden processes of your body, which are aimed at curing diseases and preventing possible problems.
What is special about Thai massage?
The history of massage goes deep into ancient Indian and Chinese culture. If you believe the legends, then the founder of the technique was a doctor who treated Indian kings and this technique was passed on only to those who were worthy of the title of healer.
In the modern world, a calm session resembles meditation in a certain way, where the client lies, and the specialist uses his hands or even his whole body to affect certain areas, stretching and carefully working out each muscle. and they say that Thai massage is a technique that has the most effective point action on individual parts of the body. The master uses the technique of Thai massage to find low-motion areas and works with them.
Advantages of Thai massage in Lviv.
The advantages are very many and if you understand that at least one point, from the listed ones, you need to improve in your appearance or internal state, then you should visit a Thai massage in Lviv at the Deluxe Massage Center by Bezvuliak.
general relaxation of the whole body;

active fight against insomnia and fatigue;

improvement of stress resistance and nervous system;

posture correction and muscle corset restoration;

improvement of body flexibility and natural stretching;

treatment of injuries and their consequences;

body rejuvenation;

getting rid of excess weight, cellulite and stretch marks;

positive effect on the cardiovascular system and blood circulation;
Who should try Thai massage, and who is it contraindicated?
Thai yoga massage will be most useful for the following groups of people:
those who work hard at physical work;
those who lead a sedentary lifestyle;
those who are overweight;
those with impaired skin elasticity;
those who get tired quickly;
those who have the initial stage of osteochondrosis.
The price of a Thai yoga massage in Lviv at the Deluxe Massage Center by Bezvuliak pleasantly surprises our guests, because the payment depends on the number of minutes you choose. A unique complex that includes massage, yoga and meditation will help you relax and recover after a hard work week. The surrounding atmosphere also has a very strong influence on the state of the client, so our specialists do everything possible to make the session and the atmosphere feel calm and relaxed.
Our masters care about your health, so we recommend that you familiarize yourself with the list of contraindications with which you should not visit a Thai massage in Lviv. For your own health, it is forbidden to attend a massage:
Pregnant and breastfeeding mothers.
A cancer patient with benign or malignant tumors.
Chronic patients who have an exacerbation stage.
People with purulent diseases or inflammatory processes of any localization.
Allergy sufferers.
Clients with untreated fractures, varicose veins or damaged muscles.
For people with mental disorders that affect excitement.
In the case of diabetics and heart patients, Thai massage should be attended only after consultation with the attending physician.
How to perform a massage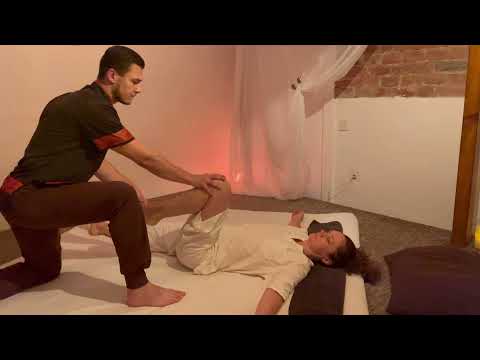 Popular questions
Для кожного індивідуальна кількість, тому краще консультуватись з майстром. Тайський масаж у Львові у Deluxe by Bezvuliak можна комбінувати із масажем "Відновлювальна терапія" за для більш оздоровчого ефекту. Зазвичай ідеальною перервою між сеансами масажу буде два-три максимум чотири дні.
В день масажу краще не займатись іншими фізичними навантаженнями (до прикладу, похід в спортивний зал), оскільки сеанс є повноцінним тренуванням для організму.
Тайський масаж робиться в піжамі і без масажної олійки. Відмінність також є у відчуттях під час масажу. Тайський масаж більше розслабляє, знімає внутрішні затиски та забирає напруження не лише у м'язах, а й у голові. До того ж Тайський масаж у Львові робиться таким чином, що увага приділяється всьому тілу від ніг до голови. Після сеансу Ви відразу відчуєте ефект: спочатку сонливість та розслабленість, а після неймовірний приплив сил.
Можуть, адже один сеанс — як інтенсивне фітнес-тренування, коли працює не лише майстер, а і Ви. І якщо Ви ведете малорухливий спосіб життя, то після першого сеансу Тайського йога-масажу може відчуватись легкий біль в м'язах. Цей біль у тілі зазвичай вказує на зони, яким варто приділити більше уваги.
І звичайно, що у кожної людини свій поріг розтяжки, тому необхідно прислухатись до власного тіла і обов'язково про больові відчуття під час масажу говорити Вашому майстру.
Насправді вікових обмежень немає. Він підходить не лише дорослим, а й дітям та людям похилого віку. Просто для кожного випадку майстер індивідуально підбирає техніку, відповідно до фізичного стану клієнта.
Масаж дуже корисний для дітей, адже позитивно впливає на нервову, ендокринну, імунну та кровоносну системи. Для людей похилого віку протипоказання в масажі можуть бути лише у випадку остеохондрозу та гіпертонії, а в інших випадках навіть корисний, адже покращує самопочуття та розвиває втрачену гнучкість.
You want to sign up for a massage
Thai yoga massage?
Gift certificates
Need to greet loved ones? Or treat yourself?
The best gift for any holiday for your family and friends!
Learn more