Massage details:
With the help of the Tok Sen massage at the Deluxe by Bezvuliak Massage Center, our qualified masters will deeply work your body, using a unique technique based on the technology of tapping the body with special wooden tools, balance your energy system and help to cleanse the whole body.The Tok Sen Massage at the Deluxe by Bezvuliak Massage Center is a unique and special massage. It is perfect for people who follow a sedentary lifestyle.
The total duration of the "Tok Sen" massage is 90 minutes. You can get a massage during the day (from 09:00 to 17:00) or in the evening (from 17:00 to 21:00).
We have a discount during daytime hours 09:00 – 17:00.
On our web-site you have the opportunity to try the "Tok Sen" massage in addition to the main massage. The price of the "Tok Sen" addenda will pleasantly surprise you.
"Tok Sen" technique at the Deluxe by Bezvuliak Massage Center
"Tok Sen" is an ancient healing technique. According to a legend, it is more than 4 thousand years old. This is a mega special technique of Thai vibration massage of all parts of the body – head, neck, back, legs, feet, arms, abdomen with the help of special wooden tools.
"TOK" is translated as sound made by hitting a tree on a tree and "SEN" is energy lines passing through the human body.
In the East, it has long been believed that the entire human body is permeated by invisible energy channels through which the vital energy of qi flows. A person is healthy only when the qi flows freely, is not blocked anywhere and is not lost along the way, but also it should not bring excess to the appropriate organ.
A hammer and a stick for tapping create a special vibration, which at the micro level "punches" energy channels and activates equal flows of energy through them. They transmit the energy of the human body together with the deep vibration from the hits, thus balancing the entire system.
The Tok Sen body massage works on:
– Energy meridian lines,
– Biologically active points,
– Muscles and fascia,
– Nerve endings,
– Internal organs,
– Lymphatic system,
– Cardiovascular system,
– Musculoskeletal system.
With each hit there is a complete reboot of the whole organism and the adjustment of all systems.
In any case, before getting a massage in Lviv, consult a specialist of the Deluxe by Bezvuliak Massage Center. This will allow you to choose the perfect treatment that will fit your health conditions.
If you have no contraindications, and have the desire to heave a body massage in Lviv, we look forward to seeing you in the heart of the city.
For more details about the massage: call our specialists to get advised in detail.
What result do you get from the Tok Sen massage:
Relaxation of the muscles of the whole body,
Removal of blocks on energy channels,
Restoration of energy movement in the body,
Improving the mobility of the fascia of the whole body,
Charge of energy and positive feelings
The Talk Sen massage perfectly fights mood swings, depression and relieves general tension, headaches.
It is important that you stay healthy. That is why we warn about contraindications to the "Tok Sen" massage:
•  Osteoporosis,
•  Recent injuries to bones, joints or ligaments,
•  Recent operations,
•  Exacerbation of chronic diseases,
•  Pregnancy.
•  Varicose veins, thrombosis of the lower extremities,
•  Tumors (benign or malignant).
•  Skin diseases,
•  Mental illness and epilepsy.
How to perform a massage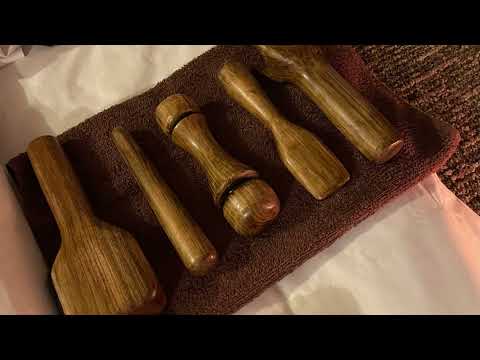 Popular questions
Deluxe by Bezvuliak Massage Centre is a place for rest and recovery. All you have to do is to phone us and arrange a visit. Here you will be welcomed by our friendly staff. You do not have to bring anything – we have every single thing to make you feel comfortable.
Of course it is worth coming earlier. This allows you to change your shoes, visit the bathroom and in the welcoming atmosphere of Deluxe by Bezvuliak, settle in for an outstanding experience and pleasure.
All massages at our Massage Centre have a revitalizing effect. If you have an individual needs or if you feel pain in certain areas that you would like to focus on – then choose either the Rehabilitation Therapy or Fantasy of the Master Massage. If you want a relaxing massage with therapeutic effects, then all the massages that we offer are specially designed for you. Give us a call and we will help you find the best option.
Each massage type has its own individual characteristics. It always depends on what you are expecting from the session – relaxation, an energy filler, some new emotions or a revitalization. For example, Ayurvedic or Four-Hand Massage will help you to relax as much as possible. This also applies to all spa massages. If you want to feel something special – try the Master Fantasy Massage, the Lomi Lomi Nui or Emotion Volcano. We can also offer exclusive massages suitable for couples, such as Tune for two Hearts or Paradise for Two.
You want to sign up for a massage
Tok Sen?
Gift certificates
Need to greet loved ones? Or treat yourself?
The best gift for any holiday for your family and friends!
Learn more