Paradise for two
Session time:
09:00 - 17:00
17:00 - 21:00
Do you want to feel something special and new together with your soul mate?
The Massage "Paradise for two" is a pleasure of soul and body, a combination of streams of masculine and feminine energies, it is unforgettable sensations, massage techniques that will definitely surprise you and relax you as much as possible.
You will be able to unite soul and body with your other half. This massage will help you better understand each other and spend time together with great pleasure. This unique opportunity is provided by the Deluxe by Bezvuliak Massage Center.
The Massage "Paradise for Two" in Lviv is a massage of the highest level of professionalism and service in the Premium-Class Massage Center. This is a pleasure that every loving couple should get.
If you want to feel unique impressions together, this massage will help you get closer and strengthen your relationship, love each other even more.
Our masseurs, performing this special Massage "Paradise for Two" in Lviv, will use scented candles to make not just a massage, but a real SPA treatment and aromatherapy for your body.
Deluxe by Bezvuliak masseurs will perform the same movements on your bodies simultaneously and synchronously. That is, you will get the same feelings as your loved one. You will be able to be filled with incredible emotions, impressions and joy that will bring your couple very close.
Then the real magic will begin, which will destroy all ideas of classical massage – i.e. the use of Rebozo towels and Tibetan bowls during the massage, which will definitely impress you.
Features of the Paradise for Two massage:
This massage combines an incredible romantic atmosphere with the petals of fresh roses around, pleasant music and lots of lighted candles,
You will receive healing and recovery from professional massage by our massage therapists at the Deluxe by Bezvuliak Massage Center.
The massage is performed not just with massage oil, but with natural massage aroma candles. In this way, your skin will be maximally moisturized and saturated with nutrients of aroma candles, because they are made only from natural ingredients.
Feel aromatherapy from massage candles and relax to the maximum,
You will get incredible impressions from Rebozo towels, with which our specialists will simply rock your bodies,
Feel the flight into space with sound meditation at the end of the massage,
Enjoy the extra time spent with your loved one with glasses of cool champagne and heart-shaped candies.
You will get extra time that you can spend alone, congratulating each other on your holiday, making a photoshoot in the romantically decorated room of the premium Massage Center Deluxe by Bezvuliak or just relax and have a special time with two glasses of cool champagne.
The total duration of this exclusive massage is 120 minutes.
Treat yourself and your partner with unforgettable impressions, incredible relaxation and celebration, because the Massage "Paradise for Two" will dispel all knowledge about the usual massage for two, expand your understanding of massage to the impossible.
This massage will improve lymph flow and blood flow in your body,
It strengthens immunity,
It contributes to the better functioning of the cardiovascular system,
It improves the work of the musculoskeletal system,
It perfectly relieves stress, tension, anxiety.
It is a good antidepressant.
Our masseurs will demonstrate the meaning of true massage art at the Deluxe by Bezvuliak Massage Center.
This is a relaxing massage, during which there are almost no contraindications. If you are pregnant and have a permission of your doctor, we will arrange everything specifically for massage for pregnant women. Therefore, you will be very comfortable to have fun during this massage in your "special" state and spend an unforgettable time with your beloved man.
Massage details:
The total duration of the "Paradise for two" Massage is 120 minutes. You can get a massage during the day (from 09:00 to 17:00) or in the evening (from 17:00 to 21:00).
We have a discount during daytime hours 09:00 – 17:00.
It is important that you stay healthy. That is why we warn about some contraindications to the massage "Paradise for two":
Purulent disease.
Рrocesses (of any localization).
Allergies.
Tumors (benign or malignant).
Bleeding.
Mental diseases with excessive anxiety.
In any case, before getting a massage in Lviv, consult a specialist of the Deluxe by Bezvuliak Massage Center. This will allow you to choose the perfect treatment that will fit your health conditions.
If you have no contraindications, and have the desire to heave a body massage in Lviv, we look forward to seeing you in the heart of the city. For more details about the massage: call our specialists to get advised in detail.
How to perform a massage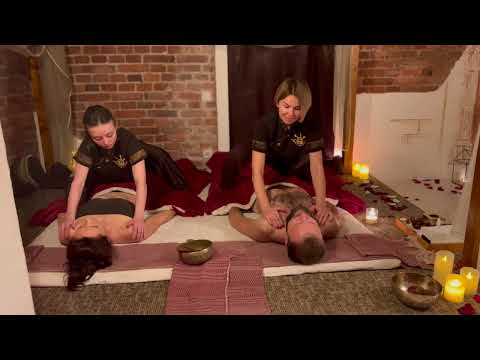 Popular questions
In no case, because the master controls the heating process. In addition, you can report the slightest discomfort at any time, and our specialist will respond to it.
For complete relaxation, it is recommended to attend a massage for two at least once every two weeks, when you feel that you need to rest and improve your own well-being.
Of course it is worth coming earlier. This allows you to change your shoes, visit the bathroom and in the welcoming atmosphere of Deluxe by Bezvuliak, settle in for an outstanding experience and pleasure.
Deluxe by Bezvuliak Massage Centre is a place for rest and recovery. All you have to do is to phone us and arrange a visit. Here you will be welcomed by our friendly staff. You do not have to bring anything – we have every single thing to make you feel comfortable.
You want to sign up for a massage
Paradise for two?
Gift certificates
Need to greet loved ones? Or treat yourself?
The best gift for any holiday for your family and friends!
Learn more