Peeling + Body wrapping
Session time:
09:00 - 17:00
17:00 - 21:00
We offer you to combine these two wonderful treatments in a complex of care and self-care: "Peeling + Chocolate wrapping" at the Deluxe by Bezvuliak Massage Center is a combination of two spa treatments in one:
Body scrubbing with peelings specially selected for your skin ,

Chocolate massage and deep moisturizing with chocolate wrap, saturation of the skin with nutrients, warmth and care.
First, your skin will be prepared: the professionals of the Deluxe by Bezvuliak Massage Center will warm up and moisturize it well. Then they perform a body peeling, without missing any area for better absorption of the components of the chocolate mixture during wrapping. 
After cleansing, the skin needs extra hydration and nourishment. 
It is at the Deluxe by Bezvuliak Massage Center that they will take care of your skin as professionally as possible – we will combine cocoa beans with high-quality coconut oil and perform a professional relaxation massage of the whole body with a chocolate mixture.
After the massage, we will wrap you for a while to moisturize your skin as much as possible. 
This miraculous mixture concentrates a large number of substances that accelerate the removal of excess fluid from the body, excretion of toxins, strengthening the walls of blood vessels, moisturizing and regenerating the skin. This will stimulate cellular respiration and microcirculation of the skin.
Coconut oil is a product that does not need advertising. We use the highest quality coconut oil.
 It perfectly soothes the skin, has a good anti-cellulite, moisturizing effect, is an effective remedy for stretch marks, protects the skin from dehydration and dryness.
If you have no contraindications, and have the desire to have peeling and chocolate body massage in Lviv, we look forward to seeing you in the heart of the city. 
For more details about the massage: call our specialists to get advised in detail.
What is so miraculous about the ritual "Peeling + Chocolate wrapping" at the Deluxe by Bezvuliak Massage Center?
There is a cleansing of the skin and removal of keratin particles,

Regeneration of young cells,

A high-quality professional relaxing massage of the whole body with a chocolate mixture is performed,

The massage promotes the breakdown of fats, has good lymphatic drainage, anti-cellulite, tightening effect, reduces body volume,

It increases resistance to stress and strengthens the immune system,

It improves blood circulation in tissues and regulates blood pressure,

It relieves stress and tension, aromatherapy promotes the release of the "joy hormone" –  serotonin,

It strengthens blood vessels, prevents the deposition of cholesterol on their walls, 

It has a relaxing and calming effect.
Give yourself or a loved one an unforgettable relaxing fairytale – a rite of purification and care for your body.
From the list of our services you can choose SPA treatments "Body peeling", lasting 60 minutes, and "Chocolate wrap", lasting 90 minutes.
We offer you this ritual at the Deluxe by Bezvuliak Massage Center lasting 90 minutes and 120 minutes.
This is a great option both for yourself and as a gift to forget about all the worries and fuss, take time for yourself and take care of your beautiful body.
You can get a massage during the day (from 09:00 to 17:00) or in the evening (from 17:00 to 21:00). 
We have a discount during daytime hours 09:00 – 17:00.
Сontraindications:
We care about your health, so not to worsen your condition, we advise you to read the list of contraindications to the ritual "Peeling + Chocolate wrapping" in Lviv. The list of contraindications includes:
Tumors (benign or malignant).

Inflammatory process in the body (any localization).

Blood diseases.

Purulent processes (of any localization).

Psychosomatic diseases with excessive anxiety.

Pregnancy

Fungal diseases of nails or feet

Predisposition to thrombosis

Menstruation

Allergy to chocolate

Sugar diabetes

Gynecological diseases

Cardiovascular diseases
In any case, before getting a massage in Lviv, consult a specialist of the Deluxe by Bezvuliak Massage Center. This will allow you to choose the perfect treatment that will fit your health conditions.
How to perform a massage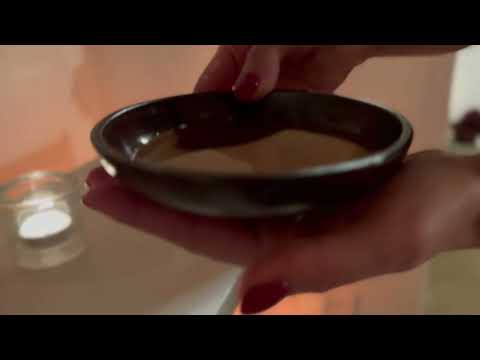 Popular questions
Each type of massage has its own characteristics and is therefore suitable for a specific situation. For example, "Volcano of Emotions" or "Tantric" will help you relax.
But if you want to feel something special, then try Peeling + Body wraps. There are also special massages that are suitable for two loved ones.
If you have chronic diseases or other contraindications, it is better to consult your doctor before the procedure. He will already advise you which massage can be used in your case.
However, if one massage is better not to do for health reasons, you can always try another. For example, having an effect on other parts of the body.
Peeling + Body wraps is one of those massages that is definitely worth a try at least once in your life. This is an opportunity to adjust the work of the body in the right way and significantly recover.
People who often use this procedure are less likely to catch a cold, better tolerate seasonal illnesses and do not suffer from joint pain.
In fact, you will already feel great after the first massage. But in order to consolidate the effect for a long time, it is desirable to take a short course of 5-7 sessions.
Then you will feel great for a long time. And also you will be filled with energy for new purposes.
You want to sign up for a massage
Peeling + Body wrapping?
Gift certificates
Need to greet loved ones? Or treat yourself?
The best gift for any holiday for your family and friends!
Learn more