Thai transformation
Session time:
09:00 - 17:00
17:00 - 21:00
Massage details:
The total duration of the "Thai Transformation" massage is 120 minutes. You can get a massage during the day (from 09:00 to 17:00) or in the evening (from 17:00 to 21:00).
We have a discount during daytime hours 09:00 – 17:00.
There are certain groups of people for whom a massage of any part of the body will be contraindicated. Not to harm yourself, we advise you to read more about the contraindications:
Pregnancy.
Overweight (this massage has a client's weight limit – no more than 90 kg)
Purulent disease.
Inflammatory processes (of any localization).
Osteoporosis.
Tumors (benign or malignant).
Recent injuries to bones, joints or ligaments.
Mental diseases with excessive anxiety.
Lymphatic diseases.
In any case, before getting a massage in Lviv, consult a specialist of the Deluxe by Bezvuliak Massage Center. This will allow you to choose the perfect treatment that will fit your health conditions.
If you have no contraindications, and have the desire to heave a body massage in Lviv, we look forward to seeing you in the heart of the city.
For more details about the massage: call our specialists to get advised in detail.
What are the features of this massage?
Have you ever tried a combination of stretching, relaxation and unreal pleasure in one massage? If you haven't been to the Thai Transformation Massage yet, the answer is no!
THIS combination of seemingly incompatible things – massage, stretching, warm stones, meditation in one two-hour session.
Try new impressions and emotions during the "Thai Transformational Massage" and the word "Thai massage" will acquire a much deeper and more extensive meaning for you.
This is a whole massage action and rebirth of your body!
During the massage, the ligaments and tendons in your body are deeply and gently worked for 120 minutes.
Professional work with joints, tapping of energy channels with the Tok Sen tool (ancient technique of tapping of a body with wooden tools) is carried out.
This massage includes:
Rebozo towels,
Ancient tool Tok Sen (at the choice of the therapist),
Hot stones,
Thai yoga massage – the highest level of professionalism,
Sound meditation at the end of a massage with Tibetan bowls.
Who is recommended to get the "thai transformation" massage?
If you have been living in stress for a long time and do not have time for yourself and rest,
If you follow a sedentary lifestyle and your body has long been asking for some movement and needs careful attention,
If you are physically and emotionally stressed,
If you want to get rid of excess from your body and improve lymph flow and blood flow,
If you want to improve your metabolism and recover,
If you want to lift your spirits and recharge your batteries.
It includes lifting the load from the shoulders, warming up the muscles of the back, trapezius and neck, light stretching of your body, which will give you flexibility and lightness, and unforgettable rebozo towels will give you new unique impressions.
The final part includes sound therapy, singing Tibetan bowls, which transform you as much as possible, will remove all unnecessary negative thoughts and emotions acquired over a long period of time.
How to perform a massage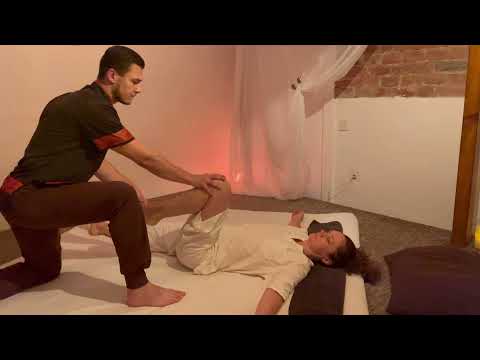 Popular questions
Each type of massage has its own characteristics and is therefore suitable for a specific situation. For example, "Volcano of Emotions" or "Tantric" will help you relax.
But if you want to feel something special, then try "Fantasy Master". There are also special massages that are suitable for two loved ones.
If you have chronic diseases or other contraindications, it is better to consult your doctor before the procedure. He will already advise you which massage can be used in your case.
However, if one massage is better not to do for health reasons, you can always try another. For example, having an effect on other parts of the body.
Rebooting is one of those massages that is definitely worth a try at least once in your life. This is an opportunity to adjust the work of the body in the right way and significantly recover.
People who often use this procedure are less likely to catch a cold, better tolerate seasonal illnesses and do not suffer from joint pain.
In fact, you will already feel great after the first massage. But in order to consolidate the effect for a long time, it is desirable to take a short course of 5-7 sessions.
Then you will feel great for a long time. And also you will be filled with energy for new purposes.
You want to sign up for a massage
Thai transformation?
Gift certificates
Need to greet loved ones? Or treat yourself?
The best gift for any holiday for your family and friends!
Learn more