Tibetan Massage
Session time:
09:00 - 17:00
17:00 - 21:00
Massage details:
Do you want to relax from the rapid and mobile world? Besides, this relaxation would be beneficial for health. The professionals of the studio of massage art Deluxe by Natalia Bezvuliak know how to combine business with pleasure. Tibetan massage in Lviv is just for you.
In terms of physiology, massage is unique, because during this massage the body and soul are best relaxed. The massage combines massage and meditation elements. This allows you to abstract from the outside world. Thanks to this there is a time to think a bit about something eternal and to dream.
And are you ready to get incredible pleasure during a Tibetan massage in Lviv?
What are the features of Tibetan massage?
A type of Tibetan massage was developed in Tibet by the masters of Ku-Nye. The massage includes elements of meditation and yoga.
For a long time the Tibetans were the leaders of longevity. Certainly, a strait way of life helps them, the absence of bad habits and self-care, including massage.
Tibetan massage, the comments hereon you can find on our website, is done through all your body. Massage is done using oils that act as aromatherapy. All oils used during the massage are hypoallergenic and therefore safe for you.
During the session, the muscles and joints, which are the basis of restoration and relaxation, are worked at separately. That is why after the session you will feel how the body is filled with energy.
Who will benefit from the Tibetan Massage session?
Like any other procedure, the Tibetan massage in Lviv has its own indications. The indications for this session can be attributed to:
Deterioration of metabolism.
Fast fatigability.
High-stress job.
Deterioration of elasticity and skin turgor.
Initial stages of osteochondrosis.
Gastroduodenal ulcer.
The masters of the studio of massage art Deluxe by Natalia Bezvuliak have a great professional experience, which is confirmed by many positive comments on the Internet. The high level of our masters will help you relax and regain your strength at any time.
Useful recommendations for the first clients of the studio of massage art Deluxe by Bezvuliak
Before visiting any procedures, we recommend you to consult a doctor. If you are interested in information about Tibetan massage in Lviv, our specialists will give you a high-quality consultation.
Tibetan Massage session takes 45 minutes. We really appreciate your time and understand what a heavy agenda you have. Therefore, you can order a procedure at your convenience. Everything depends on when you have a free moment to devote it to yourself. You can also order a gift certificate and present a relaxation session to your relatives and friends.
We take care of your health, so before registering for a Tibetan massage in Lviv, we recommend you to consult a doctor and get a list of the main contraindications. These are the following:
The presence of purulent or inflammatory process of any localization.
Blood diseases.
Allergic diseases.
The presence of tumors (benign and malignant)
Bleeding or predisposition hereto.
Psychosomatic illnesses with excessive excitement.
Lymphatic disease
How to perform a massage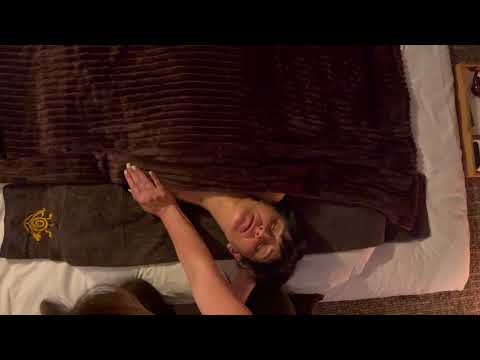 Popular questions
Deluxe by Bezvuliak Massage Centre is a place for rest and recovery. All you have to do is to phone us and arrange a visit. Here you will be welcomed by our friendly staff. You do not have to bring anything – we have every single thing to make you feel comfortable.
Of course it is worth coming earlier. This allows you to change your shoes, visit the bathroom and in the welcoming atmosphere of Deluxe by Bezvuliak, settle in for an outstanding experience and pleasure.
All massages at our Massage Centre have a revitalizing effect. If you have an individual needs or if you feel pain in certain areas that you would like to focus on – then choose either the Rehabilitation Therapy or Fantasy of the Master Massage. If you want a relaxing massage with therapeutic effects, then all the massages that we offer are specially designed for you. Give us a call and we will help you find the best option.
Pink Recovery is a two-hour full-body spa experience to maximize your relaxation at our Massage Centre. The Volcano of Emotions is a massage where you get twice the pleasure because it is performed by two masters. If you want four hands to maximize your relaxation and wellness, then Volcano of Emotions is right for you. If you simply want a taste of what a spa massage is all about, we recommend you start with a 90-minute Stone Therapy Massage, Ayurvedic Massage or Aroma massage with candle and then progress to all other massages at our Centre.
You want to sign up for a massage
Tibetan Massage?
Gift certificates
Need to greet loved ones? Or treat yourself?
The best gift for any holiday for your family and friends!
Learn more