Massage in 4 hands
Session time:
09:00 - 17:00
17:00 - 21:00
Massage details:
Incredible feelings, thousands of pleasant touches all over the body. This is what you get from massage in 4 hands in Lviv. Exclusive service for you from the studio of massage art Deluxe by Natalia Bezvuliak. Feelings that should everyone try, because this is impossible to forget.
This is a special massage done by a tandem of specialists. You will be able to get twice as much health, joy and pleasant feelings than from ordinary massage. You will be charged with new vitality at the moment when skilled masters will thoroughly process every part of your body. It will help you to relax your muscles perfectly, to feel the wool in the hands of experienced masseurs.
Reasons for the popularity of massage in 4 hands
The main advantage of this session is that each muscle in your body is processed twice as much. That is, at that moment, while one specialist massages your back, the other works with the feet. Due to this the healthcare effect on the body increases considerably.
As a result, massage in 4 hands in Lviv will allow you to give maximum attention to each part of the body. This will give you incredible feelings about the procedure.
An important advantage of massage is that you will not concentrate your attention on the hands of one person. Due to this your consciousness will also be relaxed. You will get the desired recharging with vital energy, which will give you strength for new achievements.
Another advantage of this session is that you will get the most satisfaction for a moderate amount of time. This is especially useful if you have limited time for staying in Lviv. And then you will definitely find strength to look at the magnificent city. Because we value your time and understand how busy you are.
Indications for massage in 4 hands
We recommend you primarily to undergo a unique massage course if you have:
Sleep disturbance;
Problems with metabolic processes in the body;
First signs of skin aging;
Bad mood;
Depression or stress;
Chronic fatigue;
Skin rashes.
Hereof you can determine how useful massage in 4 hands is, the comments hereon you will find on our website. This is not only an opportunity to get incredible impressions, but also to raise your level of health significantly.
Contraindications to massage
Massage in 4 hands in Lviv brings enormous benefits to the body, improving your mood, relaxing muscles and nerves. However, some people are in the risk area when it is better to consult a physician before the session. In what situations is it better to do this?
Pregnancy (especially the first trimester).
Period of menstruation.
Chronic skin diseases.
The presence of a benign or malignant tumor.
Certainly, this is not a complete list of contraindications, but only the main points. If you have chronic health problems, it would be reasonable to consult your family physician before the procedure. We always encourage you to be attentive to your health, because it is important to us.
We try to do everything for you at maximum, give you only the best impressions of massage in 4 hands in Lviv. All you have to do is register with us to receive a well-deserved dose of health and pleasure.
How to perform a massage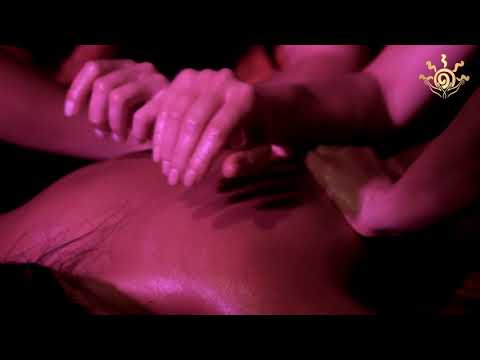 Popular questions
Deluxe by Bezvuliak Massage Centre is a place for rest and recovery. All you have to do is to phone us and arrange a visit. Here you will be welcomed by our friendly staff. You do not have to bring anything – we have every single thing to make you feel comfortable.
Of course it is worth coming earlier. This allows you to change your shoes, visit the bathroom and in the welcoming atmosphere of Deluxe by Bezvuliak, settle in for an outstanding experience and pleasure.
All massages at our Massage Centre have a revitalizing effect. If you have an individual needs or if you feel pain in certain areas that you would like to focus on – then choose either the Rehabilitation Therapy or Fantasy of the Master Massage. If you want a relaxing massage with therapeutic effects, then all the massages that we offer are specially designed for you. Give us a call and we will help you find the best option.
Each massage type has its own individual characteristics. It always depends on what you are expecting from the session – relaxation, an energy filler, some new emotions or a revitalization. For example, Ayurvedic or Four-Hand Massage will help you to relax as much as possible. This also applies to all spa massages. If you want to feel something special – try the Master Fantasy Massage, the Lomi Lomi Nui or Emotion Volcano. We can also offer exclusive massages suitable for couples, such as Tune for two Hearts or Paradise for Two.
You want to sign up for a massage
Massage in 4 hands?
Gift certificates
Need to greet loved ones? Or treat yourself?
The best gift for any holiday for your family and friends!
Learn more