Dream of Padishah
Session time:
09:00 - 17:00
17:00 - 21:00
Have you ever fully enjoyed a massage?
Imagine that these feelings triple. A good prospect to spend free time with pleasure? A 6-hand massage in Lviv at the Deluxe by Bezvuliak Massage Center is a unique opportunity to recharge with positive energy, strengthen your health and lift your spirits.
For one hour of massage at the Deluxe by Bezvuliak Massage Center, you will get the same effect as one masseur would do for three or four hours. You will get all the pleasure at once!
First, a SPA foot ritual will be performed in preparation for the very sacrament of massage. At this time, the masseurs will massage your shoulders, arms, relax your body as much as possible, relieve fatigue from feet. Only after this preliminary relaxation, the real magic of the art of massage will begin – three massage therapist will use different techniques, treat different parts of the body at the same time and work carefully with the muscles of your body, feet, head. All this is done so that you literally dissolve in the sea of pleasure that will give you a massage with six hands in Lviv at the Deluxe by Bezvuliak Massage Center.
Who is recommended to heave the "Dream of the Padishah"?
•  If you have long wanted to try something special or make a special gift,
•  if you have been living in stress for a long time and do not have time for yourself and rest,
•  if you follow a sedentary lifestyle and your body needs careful attention,
•  if you are physically and emotionally stressed,
•  if you want to get rid of excess from your body and improve lymph flow and blood flow,
•  if you want to improve your metabolism and recover,
•  if you want to lift your spirits and recharge your batteries.
The total duration of the "Dream of the Padishah" or "Dream of the Goddess" is 60 minutes. You can get a massage during the day (from 09:00 to 17:00) or in the evening (from 17:00 to 21:00).
We have a discount during daytime hours 09:00 – 17:00.
Сontraindications for massage
It is important that you stay healthy. That is why we warn about some contraindications to the "Dream of the Padishah" or "Dream of the Goddess":
•  Purulent disease.
•  Inflammatory processes (of any localization).
•  Tumors (benign or malignant).
•  Bleeding.
•  Mental diseases with excessive anxiety.
•  Allergies.
In any case, before getting a massage in Lviv, consult a specialist of the Deluxe by Bezvuliak Massage Center. This will allow you to choose the perfect treatment that will fit your health conditions.
If you have no contraindications, and have the desire to heave a body massage in Lviv, we look forward to seeing you in the heart of the city.
For more details about the massage: call our specialists to get advised in detail.
How to perform a massage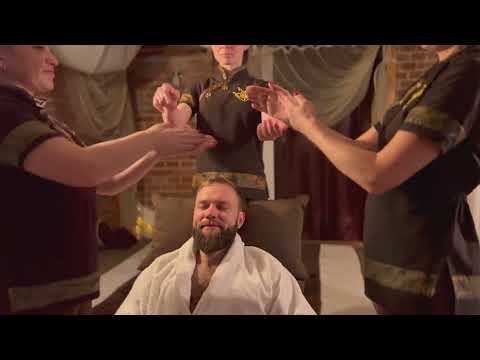 Popular questions
Each massage type has its own individual characteristics. It always depends on what you are expecting from the session – relaxation, an energy filler, some new emotions or a revitalization. For example, Ayurvedic or Four-Hand Massage will help you to relax as much as possible. This also applies to all spa massages. If you want to feel something special – try the Master Fantasy Massage, the Lomi Lomi Nui or Emotion Volcano. We can also offer exclusive massages suitable for couples, such as Tune for two Hearts or Paradise for Two.
Pink Recovery is a two-hour full-body spa experience to maximize your relaxation at our Massage Centre. The Volcano of Emotions is a massage where you get twice the pleasure because it is performed by two masters. If you want four hands to maximize your relaxation and wellness, then Volcano of Emotions is right for you. If you simply want a taste of what a spa massage is all about, we recommend you start with a 90-minute Stone Therapy Massage, Ayurvedic Massage or Aroma massage with candle and then progress to all other massages at our Centre.
Of course it is worth coming earlier. This allows you to change your shoes, visit the bathroom and in the welcoming atmosphere of Deluxe by Bezvuliak, settle in for an outstanding experience and pleasure.
Deluxe by Bezvuliak Massage Centre is a place for rest and recovery. All you have to do is to phone us and arrange a visit. Here you will be welcomed by our friendly staff. You do not have to bring anything – we have every single thing to make you feel comfortable.
You want to sign up for a massage
Dream of Padishah?
Gift certificates
Need to greet loved ones? Or treat yourself?
The best gift for any holiday for your family and friends!
Learn more